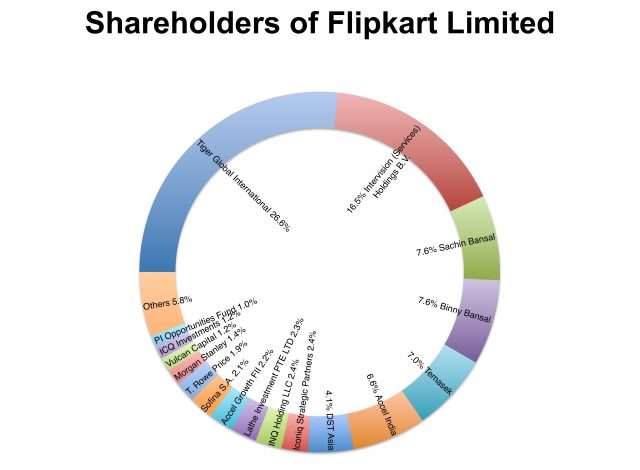 Flipkart, one of the biggest online marketplaces in India, started with two owners, Binny Bansal and Sachin Bansal (they are not related). The company's early investors were Tiger Global and Temasek, among others. There are rumors afloat that Walmart may invest up to $1 billion in Flipkart. If it does, it will join at least 90 other institutional Flipkart shareholders. Most of those funds represent millions of American workers.
Flipkart was founded in 2008, and in 2011 a holding company, Flipkart Limited, was created in Singapore. Flipkart Limited is now the parent of all Flipkart companies in India. After the latest round of investment in 2015, Flipkart Limited, dozens of American pension and 401K funds became minority (less than 1%) shareholders in Flipkart. Based on an estimated value of US$104/share, the size of these investments ranges from US$86.8 million to as little as $4,676.
Here's a full list of Flipkart shareholders and the number of shares they hold, as 1 August 2016. The information comes from the Accounting and Corporate Regulatory Authority of Singapore.
| Shareholder | Ordinary Shares | Preferred Shares | Total | Ownership (%) | Value ($103.9/Share) | Ordinary Ownership (%) |
| --- | --- | --- | --- | --- | --- | --- |
| Tiger Global International | 1,312,880 | 24,746,583 | 26,059,463 | 26.61% | 2,707,578,206 | 7.82% |
| Intervision (Services) | | 16,135,064 | 16,135,064 | 16.48% | 1,676,433,150 | 0.00% |
| Sachin Bansal | 7,480,712 | | 7,480,712 | 7.64% | 777,245,977 | 44.58% |
| Binny Bansal | 7,476,271 | | 7,476,271 | 7.64% | 776,784,557 | 44.55% |
| Temasek | | 6,844,934 | 6,844,934 | 6.99% | 711,188,643 | 0.00% |
| Accel India | 17,000 | 6,457,985 | 6,474,985 | 6.61% | 672,750,942 | 0.10% |
| Dst Asia | | 3,992,707 | 3,992,707 | 4.08% | 414,842,257 | 0.00% |
| Iconiq Strategic Partners | | 2,308,181 | 2,308,181 | 2.36% | 239,820,006 | 0.00% |
| Inq Holding Llc | | 2,307,061 | 2,307,061 | 2.36% | 239,703,638 | 0.00% |
| Lathe Investment Pte Ltd | | 2,287,753 | 2,287,753 | 2.34% | 237,697,537 | 0.00% |
| Accel Growth Fii | | 2,194,033 | 2,194,033 | 2.24% | 227,960,029 | 0.00% |
| Sofina S.A. | | 2,083,707 | 2,083,707 | 2.13% | 216,497,157 | 0.00% |
| T. Rowe Price | 149,096 | 1,705,151 | 1,854,247 | 1.89% | 192,656,263 | 0.89% |
| Morgan Stanley | | 1,394,788 | 1,394,788 | 1.42% | 144,918,473 | 0.00% |
| Vulcan Capital | | 1,220,203 | 1,220,203 | 1.25% | 126,779,092 | 0.00% |
| Icq Investments | | 1,175,897 | 1,175,897 | 1.20% | 122,175,698 | 0.00% |
| Pi Opportunities Fund | | 961,579 | 961,579 | 0.98% | 99,908,058 | 0.00% |
| Steadview Capital | | 835,003 | 835,003 | 0.85% | 86,756,812 | 0.00% |
| Accel | | 734,751 | 734,751 | 0.75% | 76,340,629 | 0.00% |
| Idg Ventures | | 727,100 | 727,100 | 0.74% | 75,545,690 | 0.00% |
| Vanguard | | 473,745 | 473,745 | 0.48% | 49,222,106 | 0.00% |
| Fkt Mauritius Investment Limited | | 417,502 | 417,502 | 0.43% | 43,378,458 | 0.00% |
| Greenoaks Fkt Llc | | 417,502 | 417,502 | 0.43% | 43,378,458 | 0.00% |
| Scottish Mortgage | | 375,752 | 375,752 | 0.38% | 39,040,633 | 0.00% |
| Indous Ventures | | 354,717 | 354,717 | 0.36% | 36,855,096 | 0.00% |
| Ubs | 288,246 | | 288,246 | 0.29% | 29,948,759 | 1.72% |
| Dgf Bravo, Ltd. | | 174,315 | 174,315 | 0.18% | 18,111,329 | 0.00% |
| Erasmic Venture Fund Limited | | 83,140 | 83,140 | 0.08% | 8,638,246 | 0.00% |
| Ishir Goyal Gupta Irrevocable Trust | | 65,260 | 65,260 | 0.07% | 6,780,514 | 0.00% |
| Arushi Goyal Gupta Irrevocable Trust | | 65,250 | 65,250 | 0.07% | 6,779,475 | 0.00% |
| Adveq Asia | | 63,790 | 63,790 | 0.07% | 6,627,781 | 0.00% |
| Tr Capital | | 63,790 | 63,790 | 0.07% | 6,627,781 | 0.00% |
| Principal Fund, Inc. | 7,076 | 50,540 | 57,616 | 0.06% | 5,986,302 | 0.04% |
| Vva — International | | 53,619 | 53,619 | 0.05% | 5,571,014 | 0.00% |
| Fidelity | | 52,461 | 52,461 | 0.05% | 5,450,698 | 0.00% |
| Allianz | | 37,815 | 37,815 | 0.04% | 3,928,979 | 0.00% |
| Mvp Opportunity Fund | 29,147 | | 29,147 | 0.03% | 3,028,373 | 0.17% |
| Pandara Trust | | 25,516 | 25,516 | 0.03% | 2,651,112 | 0.00% |
| Prudential | 1,568 | 18,629 | 20,197 | 0.02% | 2,098,468 | 0.01% |
| Valic Company | 626 | 18,785 | 19,411 | 0.02% | 2,016,803 | 0.00% |
| Optimum Fund Trust | 1,530 | 17,320 | 18,850 | 0.02% | 1,958,515 | 0.01% |
| Shekar H. Kirani | | 17,000 | 17,000 | 0.02% | 1,766,300 | 0.00% |
| The Universal Institutional | | 16,789 | 16,789 | 0.02% | 1,744,377 | 0.00% |
| John Hancock Variable Insurance Trust | 1,470 | 12,683 | 14,153 | 0.01% | 1,470,497 | 0.01% |
| Seasons Series Trust | 922 | 11,458 | 12,380 | 0.01% | 1,286,282 | 0.01% |
| Province Of Newfoundland And Labrador Pooled Pension Fund | 1,142 | 9,714 | 10,856 | 0.01% | 1,127,938 | 0.01% |
| Arkansas Teachers Retirement System | 992 | 8,382 | 9,374 | 0.01% | 973,959 | 0.01% |
| Duke Energy Corporation | 908 | 7,725 | 8,633 | 0.01% | 896,969 | 0.01% |
| Td Mutual Funds | 438 | 7,017 | 7,455 | 0.01% | 774,575 | 0.00% |
| Penn Series Funds, Inc. | 566 | 6,640 | 7,206 | 0.01% | 748,703 | 0.00% |
| Aon Savings Plan | 548 | 6,445 | 6,993 | 0.01% | 726,573 | 0.00% |
| The Kp Funds | 692 | 5,047 | 5,739 | 0.01% | 596,282 | 0.00% |
| Delta Air Lines, Inc. Defined Contribution Plans Master Trust | 634 | 4,602 | 5,236 | 0.01% | 544,020 | 0.00% |
| Ohio Operating Engineers Pension Fund | 622 | 4,449 | 5,071 | 0.01% | 526,877 | 0.00% |
| Conagra Foods, Inc. | 376 | 4,422 | 4,798 | 0.00% | 498,512 | 0.00% |
| Rio Tinto Staff Superannuation Fund | 472 | 4,022 | 4,494 | 0.00% | 466,927 | 0.00% |
| Ohio Public Employees Deferred Compensation Progra | 530 | 3,797 | 4,327 | 0.00% | 449,575 | 0.00% |
| Xerox Corporation Trust To Funds Retirement Plans | 508 | 3,624 | 4,132 | 0.00% | 429,315 | 0.00% |
| The Bunting Family | | 4,086 | 4,086 | 0.00% | 424,535 | 0.00% |
| Sony Master Trust | 294 | 3,458 | 3,752 | 0.00% | 389,833 | 0.00% |
| Savings Board Of The Nfl Player Second Career Savings Plan | 270 | 3,177 | 3,447 | 0.00% | 358,143 | 0.00% |
| Sears 401(K) Savings Plan | 392 | 2,854 | 3,246 | 0.00% | 337,259 | 0.00% |
| Bae Master Trust Pension Investment Trust | 390 | 2,779 | 3,169 | 0.00% | 329,259 | 0.00% |
| Jeffrey Llc | | 3,104 | 3,104 | 0.00% | 322,506 | 0.00% |
| Nextera Energy, Inc. | 356 | 2,557 | 2,913 | 0.00% | 302,661 | 0.00% |
| Corning Incorporated Investment Master Trust | 344 | 2,456 | 2,800 | 0.00% | 290,920 | 0.00% |
| Nextera Energy Inc. Employee Pension Plan | 328 | 2,349 | 2,677 | 0.00% | 278,140 | 0.00% |
| The Nishar Family Trust | | 2,560 | 2,560 | 0.00% | 265,984 | 0.00% |
| Harris Corporation Master Trust | 300 | 2,163 | 2,463 | 0.00% | 255,906 | 0.00% |
| Stichting Shell Pensioenfonds | | 2,394 | 2,394 | 0.00% | 248,737 | 0.00% |
| Thrivent | 166 | 1,948 | 2,114 | 0.00% | 219,645 | 0.00% |
| Dell, Inc. 401(K) Plan | 248 | 1,783 | 2,031 | 0.00% | 211,021 | 0.00% |
| University Of Colorado Health | 238 | 1,697 | 1,935 | 0.00% | 201,047 | 0.00% |
| Union Pacific Corporation Master Retirement Trust | 230 | 1,641 | 1,871 | 0.00% | 194,397 | 0.00% |
| Jeflion Investment Company | | 1,871 | 1,871 | 0.00% | 194,397 | 0.00% |
| Bechtel Trust & Thrift Plan | 206 | 1,500 | 1,706 | 0.00% | 177,253 | 0.00% |
| The East Bay Municipal Utility District Employees Retirement System | 120 | 1,489 | 1,609 | 0.00% | 167,175 | 0.00% |
| Marriott International, Inc. | 192 | 1,379 | 1,571 | 0.00% | 163,227 | 0.00% |
| Shell Pensions | | 1,524 | 1,524 | 0.00% | 158,344 | 0.00% |
| Blue Cross And Blue Shield Of Kansas City | 172 | 1,225 | 1,397 | 0.00% | 145,148 | 0.00% |
| Tucson Supplemental Retirement System | 162 | 1,163 | 1,325 | 0.00% | 137,668 | 0.00% |
| The Grand Lodge Consolidated Fund | 148 | 1,165 | 1,313 | 0.00% | 136,421 | 0.00% |
| The Master Trust Adopted By The Home Depot Futurebuilder | 146 | 1,011 | 1,157 | 0.00% | 120,212 | 0.00% |
| Campbell Pension Plans | 114 | 968 | 1,082 | 0.00% | 112,420 | 0.00% |
| Brown Shoe Company, Inc. Retirement Plan | 102 | 726 | 828 | 0.00% | 86,029 | 0.00% |
| City Of Warwick Pension Plans | 96 | 692 | 788 | 0.00% | 81,873 | 0.00% |
| Shell Trust (Bermuda) Limited | | 464 | 464 | 0.00% | 48,210 | 0.00% |
| Usg Corporation Retirement | 60 | 390 | 450 | 0.00% | 46,755 | 0.00% |
| Dorothy W. Bunting Charitable Trust | | 399 | 399 | 0.00% | 41,456 | 0.00% |
| The Jeffrey Company | | 45 | 45 | 0.00% | 4,676 | 0.00% |